What's New - Miniature Bearings
19 June 2015 | Admin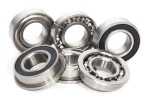 Wych Bearings now has a comprehensive range of Miniature Bearings or instrument bearings with bore sizes from 1mm to 9mm available to buy online. The range includes chrome steel bearings, stainless steel bearings and flanged bearings in a huge range of sizes either open or with metal shields or rubber seals. Use our refine filters to select the size you require.
Don't forget - Bulk order discounts – save up to 35% on your miniature bearing order.
Upgrade your bearings to our EZO range for precision and quality.
Where will you find miniature bearings:
Radio Controlled models - cars, trucks, planes, helicopters and camera drones.
Medical equipment – the dreaded Dentist's drill!
Gyros
Anemometers (windmeter)
Miniature gearboxes
Small Motors
Special Purpose Machinery
Special Lubrication – Wych Bearings can supply bearings re-lubricated to your exact requirements - contact us with your special requirements.
Other New Products :
Dunlop Vee Belts and Wedge Belts – Corrosion Resistant Housed Bearings – INA Needle Roller Bearings