Goodyear Engineering Products sold to Continental
23 July 2015 | Admin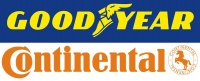 Veyance – the manufacturer of power transmission products under the "Goodyear Engineered Products" brand has been sold to Continental, the German automotive and power transmission giant. The Goodyear range of power transmission products will now be merged with Continentals' ContiTech division but Goodyear branded products will no longer be available.
Wych Bearings will continue to provide top quality v belts,wedge belts and timing belts in the following brands:
ContiTech (Continental)
Dunlop
SKF
Gates
Medway
ProTorque
If you have previously purchased Goodyear products and are not sure which items you should now order please contact us here or email us at sales@wychbearings.co.uk or call to speak to one of our experienced sales team on 01527 313575.
We will be updating our webshop listings to reflect these changes over the coming weeks.