How to Measure a Bearing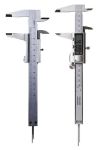 Identifying the part you need to order may not be as complicated as you think. Follow the steps below; you may impress yourself with your bearing knowledge! Always remember that here at Wych Bearings we love to talk to customers so, if you are unsure what you need:
Check for any part numbers

This might seem obvious but if you can't at first see any part numbers try cleaning the part with an oily rag. If it's a small bearing you might need to use a magnifying glass. To ensure we offer the right part make sure you tell us all the numbers and letters on the item - they may all mean something special.
Measure the part
If you can't see any part numbers, you'll need to find some accurate measuring tools and start taking measurements.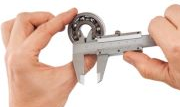 What tools will you need?
To measure a bearing you need a vernier caliper; I prefer to use a digital one but there are many different types available to suit your budget.
What should you measure?
To find out which dimensions you need to measure, locate a similar item on our webshop, click on the "Technical Information" tab and note which dimensions are listed.
Find the right product(s)
Once you have your measurements, you can use our product filters (found on the left hand side of any category page) to identify the product(s) you want. Alternatively, email all the dimensions and application details (including a picture, if you have one) to sales@wychbearings.co.uk. Remember to let us know the number you require and when you would like to receive them. One of our experienced team will be in touch to confirm the price and any other information required.