Shaft Collars - Imperial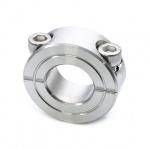 Shaft collars are used to help locate bearings, sprockets or other parts on a shaft. They are available in a variety of materials and styles including:
Zinc Plated single grub screw
Zinc Plated double Split or 2 piece collars
Stainless Steel single grub screw
Stainless Steel double Split or 2 piece collars
Our range of single grub screw shaft collars are a cost effective solution to positioning parts or providing a stop position on a shaft. Double split collars are suited to applications where you are unable to slide the collar on from the end of the shaft. They can be positioned in between existing items saving the time of dismantling the whole shaft.
If you cannot find the type or style of shaft collar that you need please contact us here.
LC-1-SS Stainless Steel Double Split Shaft Collar 1" (1"x1-3/4"x1/2")£13.44 ex. VAT (1)