Corrosion Resistant Housed Bearings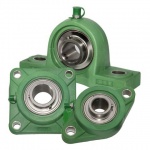 Corrosion Resistant housed bearings are designed for use in the food and beverage processing and chemical industries. Our range of thermoplastic housed bearings have mounting holes reinforced with stainless steel sleeves and are supplied with stainless steel bearing inserts and plastic end caps. These bearings are ideally suited for use in the following conditions:
Frequent washdowns
Exposure to harsh chemicals
Exposure to high humidity
Operating Temperatures of -35° C to 102° C
Fully stainless steel housed bearings are available on request.