Roller Chain
Roller Chain or Transmission Chain is used to transmit power from one shaft to another. Roller chain is available in a range of sizes in both British standard and American standard.
Use the product filters on the left to select your required roller chain or roller chain links.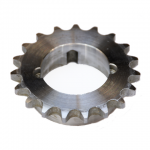 Looking for Sprockets? Click Here for our range of Roller Chain Sprockets.
Technical advice is only a phone call away. Our experienced team is here to help.
Please Call 01527 313575 or contact us here or email us at sales@wychbearings.co.uk
Wych Bearings can supply a comprehensive range of Roller Chain from the worlds leading manufacturers including Renold, Rexnord, Regina, Sedis, TD Cross, Challenge, Iwis, Tyco, Link Belt, A&S and Diamond.